Posimatic EV5000
Automatic Volumetric Liquid Filling Machine – 250ml to 5 litres
Posimatic EV5000
Automatic Volumetric Filling Machine
– 250ml to 5 litres
The Posimatic EV5000 is an extremely versatile, easy to operate, fully automatic filler and is ideal for stand-alone filling or as part of a complete packaging line.
Like all the best ideas, the Posimatic EV 5000 concept is brilliant yet simple: give the flexibility to fill almost any liquid into a vast range of container sizes without having to buy extra change parts.
Whether it's pharmaceuticals, foods, drinks, chemicals, cosmetics or household products, the Posimatic EV 5000 offers one of the most versatile and cost-effective liquid filling solutions available today.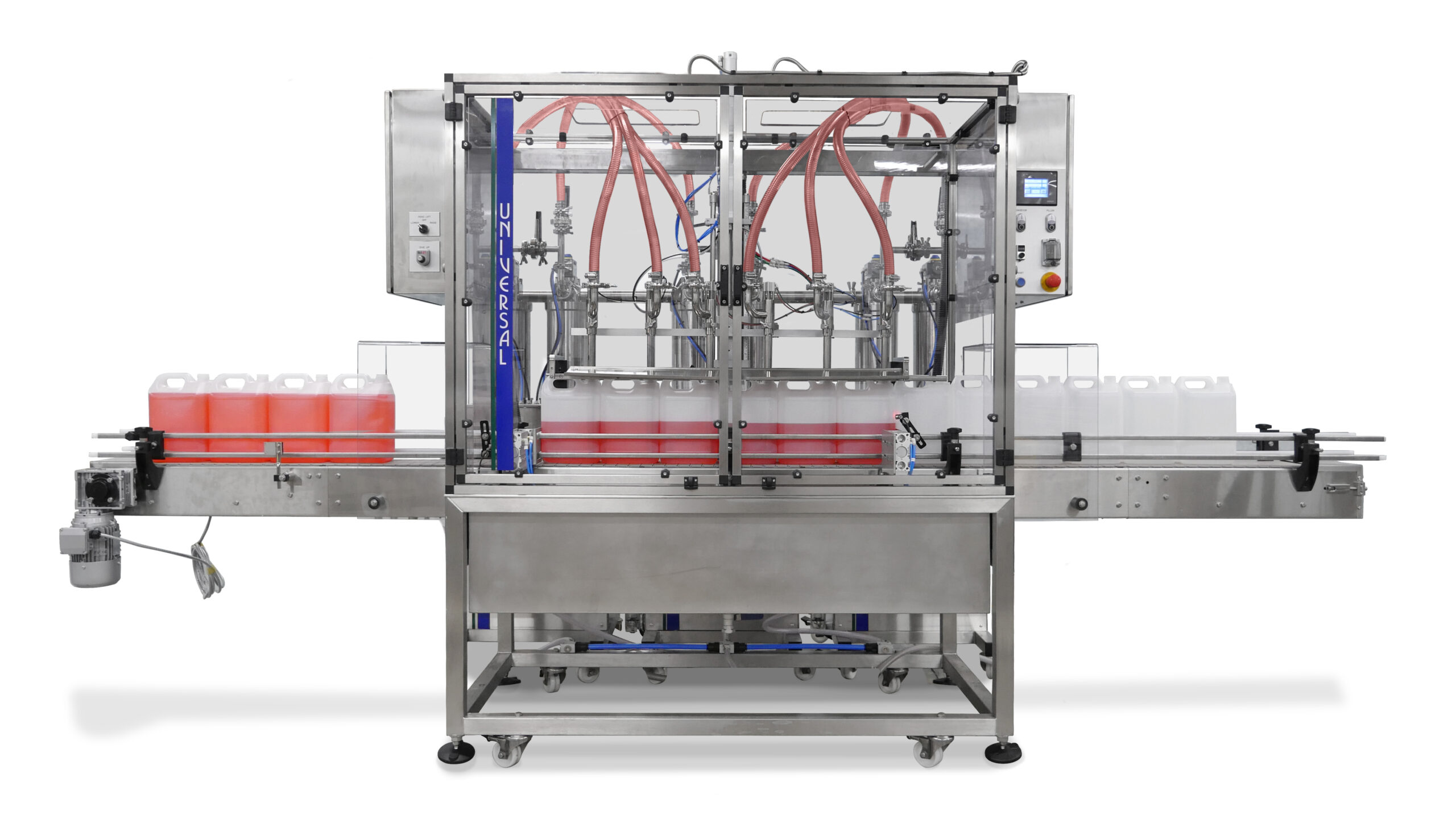 All contact parts are manufactured to the highest specification to comply with food and pharmaceutical regulations. The design of the Posimatic EV 5000 incorporates many features which simplify setup, operation, cleaning and maintenance.
The chassis houses the pneumatic and electronic control panels in an IP65-rated enclosure and the front-mounted operator panel allow easy access to all the machine's controls. The fully enclosed drip-tray allows any spillage and wash-down to drain to a single point.
The filling pump chassis is suitable for drawing liquid from floor-standing vessels or overhead tanks and can be disconnected from the main filling machine via quick-release connection and wheeled away from the production area for cleaning.
Key Benefits
In-line format eliminates need for expensive change parts
Ergonomically designed for easy access for rapid changeovers and cleaning
Tool-free speed and fill adjustment
Fully adjustable dive unit for neck entry or bottom-up filling
No container/no fill system
Suitable for handling a wide range of container shapes and sizes
Does not require highly trained operators
Fills liquids, semi-liquids and liquids with particulates
Simple to use and maintain
Food and pharmaceutical quality stainless steel contact parts
Specifications
Available format: 2,4, 6 or 8 heads
Dispensing volumes: 250ml – 5,000ml (can multi-cycle to 20 litres)
Fill accuracy: Up to +/- 0.5%
ATEX certified versions available
316 stainless steel metal contact parts
304 stainless steel chassis and conveyor
Variable speed slat chain conveyor system
Fully interlocked safety guards to CE standards
Fully adjustable container guide rails
Inline container gaiting (no change parts required for
bottle changes)
Fibre optic PLC controlled bottle detection
Diving nozzle for bottom-up filling
Pneumatic nozzles for drip free operation
Rotary valve filling heads – suitable for all liquids
Options Available
2.5 or 5 litre cylinder sizes
Vacuum suck-back system
Wide variety of hoppers and tanks to suit application
Level control systems to control product feed pumps
Rotary infeed and collecting tables
Special seal and hose materials to suit all liquids
ATEX compliant variant
Conveyors to suit any application
Request further information about this machine
Super Savings Now …
Until 31st March 2023, UK companies investing in qualifying new plant and machinery assets can claim a 130% super-deduction capital allowance on qualifying plant and machinery investments. This super-deduction will allow you to cut your tax bill by up to 25p for every £1 you invest.
There's never been a better time to invest in your company's future.