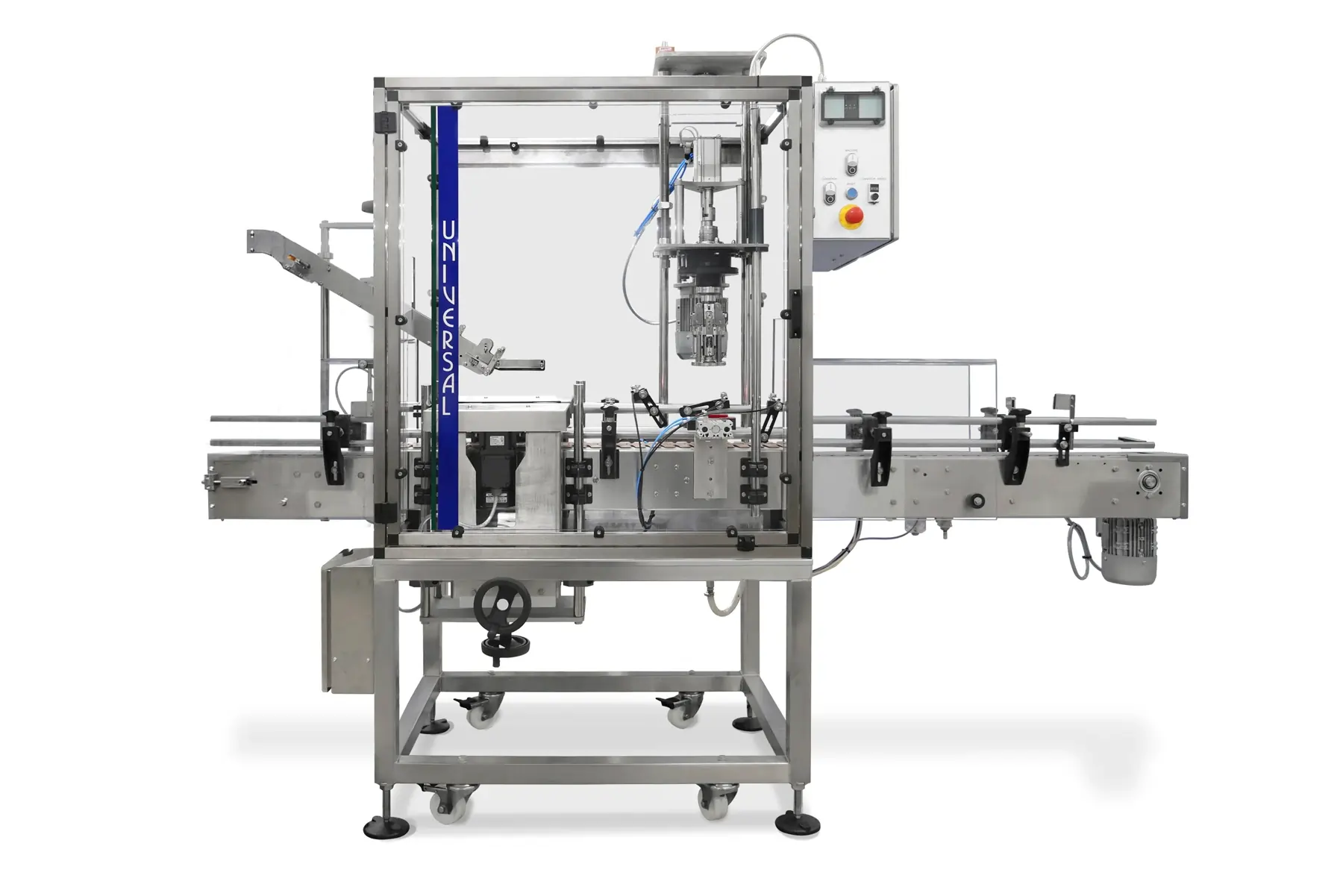 Posicap ROPP
Automatic Roll-On-Pilfer-Proof Capping Machine
Posicap ROPP
Automatic Roll-On-Pilfer-Proof Capping Machine
The Posicap ROPP is a fully automatic single or twin head ROPP (Roll On Pilfer Proof) capping machine.
Built upon Universal's tried and tested Posicap platform and control system, the Posicap ROPP replaces screw capping for ROPP capping heads.
ROPP or Roll-On-Pilfer-Proof caps are widely used for capping a variety of glass bottles and containers to provide a tamper-evident method of sealing.
Aluminium caps are placed on to bottles and the rotating capping head forms the cap to the bottle, creating a screw thread and perforated rim in the process.
Ideal For:
Wines and Spirits
Food Colourings
Edible Oils
Oral Medicines
Up to 60 bottles per minute
20-200mm Diameter x Up to 400mm Height
Single or two head operation which can achieve output speeds of up to 60 bottles per minute
ATEX certified version available for closing flammable substances.
Manual or automatic solutions for cap sorting, feeding and placing caps onto bottles.
Simple to set up, operate and maintain
Fast changeovers for bottle and closure size
Suitable for a wide range of bottle and cap sizes
In-line gating system (no change parts)
CE Certified to meet European Safety Standards

"Universal are our number one choice when we require a new filling machine …"
– Dale Eames, Production Manager, Vitax Limited
Our customers range from start-up enterprises to exclusive, world-famous brands.
We pride ourselves in manufacturing the highest quality products and supporting our customers with outstanding service. And, having built a worldwide client base after more than 45 years in business, we are proud that nearly 70% of our orders today are repeat business with existing customers, who rely on Universal Filling Machine Company to provide them with first class support and help them grow their businesses.
Every single machine or system we sell is 100% tested in our production facility to ensure it meets the customer's requirements and performance targets.
Request further information about the Posicap ROPP