Posimatic EV2500
Automatic Volumetric Filling Machine
Posimatic EV2500
Automatic Volumetric Filling Machine
Fully-Automatic Volumetric Liquid Filling Machine
The Posimatic EV2500 liquid filling system is one of the most versatile liquid filling systems available. 
Its single Bottle Handling Module can be combined with any of Universal's liquid filling systems (volumetric or vacuum) to provide a very cost effective automatic liquid filling solution.
The machine has been designed to be simple to set up and operate. As a result, it requires no specialist technical skills.
Available with 2 or 4 filling heads per chassis, the system allows up to two chassis to be connected at the same time to allow 6 or 8 head filling with output speeds up to 60 bottles per minute.
A wide range of containers can be handled without the need for change parts.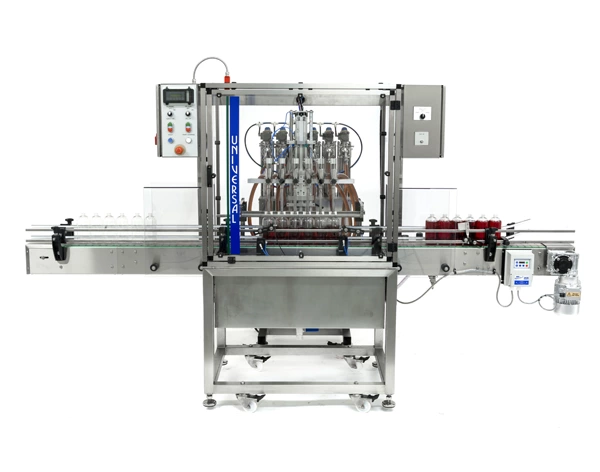 Key Benefits
In-line format eliminates need for expensive change parts
Ergonomically designed for easy access for rapid changeovers and cleaning
Tool-free speed and fill adjustment
Fully adjustable dive unit for neck entry or bottom-up filling
No container/no fill system
Suitable for handling a wide range of container shapes and sizes
Does not require highly trained operators
Simple to use and maintain
Specifications
Fills liquids, semi-liquids and liquids with particulates
Available format: 2,4, 6 or 8 heads
Dispensing volumes: 100ml – 2,500ml
Filling speeds: Up to 60b.p.m.
Fill accuracy: Up to+/- 0.5%
Food and pharmaceutical quality stainless steel contact parts
ATEX certified versions available
Request further information about this machine
Super Savings Now …
Until 31st March 2023, UK companies investing in qualifying new plant and machinery assets can claim a 130% super-deduction capital allowance on qualifying plant and machinery investments. This super-deduction will allow you to cut your tax bill by up to 25p for every £1 you invest.
There's never been a better time to invest in your company's future.