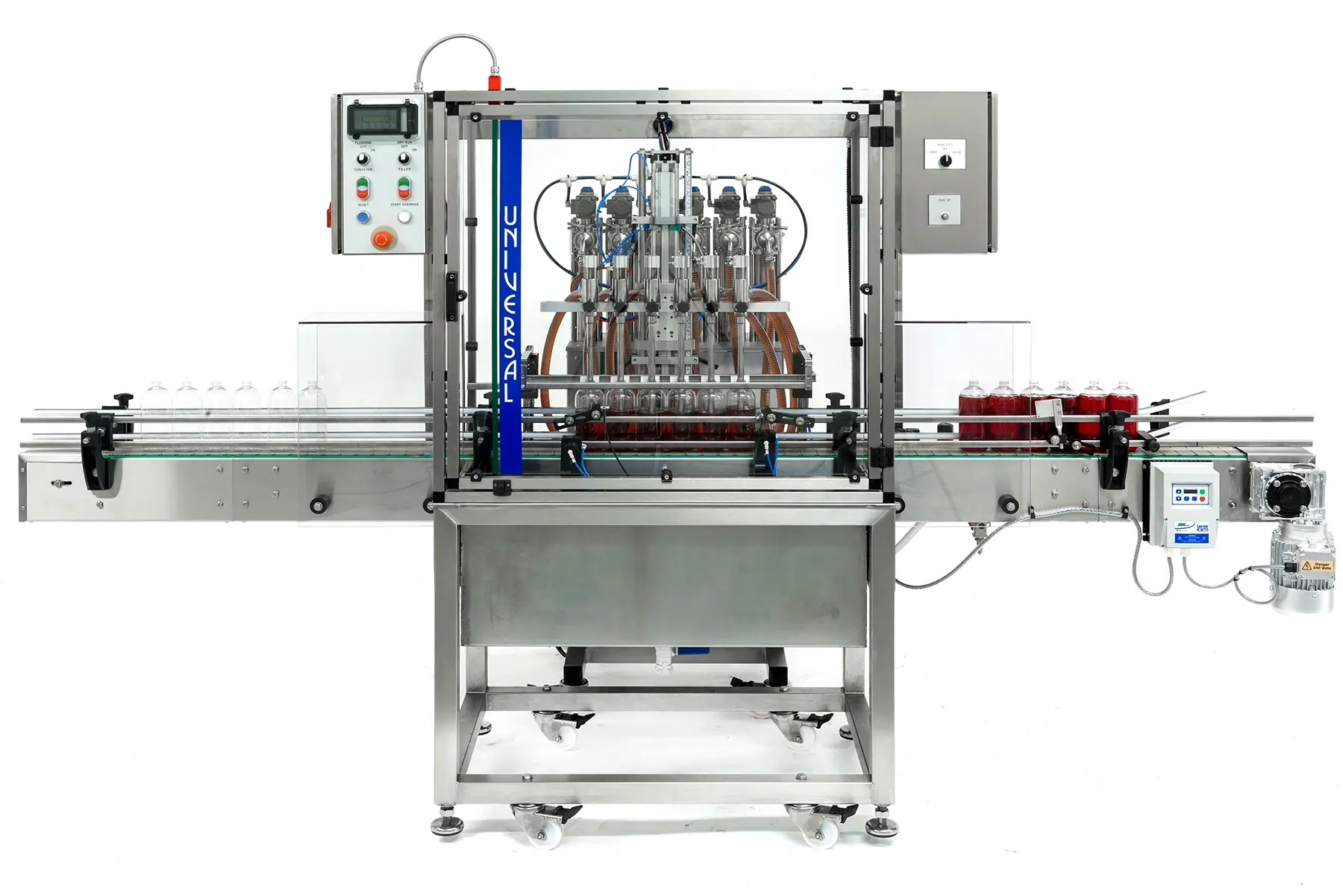 Posimatic EV2500
Automatic Volumetric Liquid Filling Machine
Posimatic EV2500
Automatic Volumetric Liquid Filling Machine
The Posimatic EV2500 automatic liquid filling machine is one of the most versatile bottle filling systems available.
Its single Bottle Handling Module can be combined with any of Universal's liquid filling systems (volumetric or vacuum) to provide a very cost effective automatic liquid filling solution.
The machine has been designed to be simple to set up and operate. As a result, it requires no specialist technical skills.
Available with 2 or 4 filling heads per chassis, the system allows up to two chassis to be connected at the same time to allow 6 or 8 head filling with output speeds up to 60 bottles per minute.
A wide range of containers can be handled without the need for change parts.
Up to 60 bottles per minute
Posimatic EV2500 Features
Fills liquids, semi-liquids & liquids with particulates
Ergonomically designed for easy access, rapid changeovers & cleaning
No Container/No Fill system
In-line format eliminates need for expensive change parts
Tool-free speed & fill adjustment
Does not require highly trained operators
Handles a wide range of container shapes & sizes
Adjustable nozzle dive unit for neck entry or bottom-up filling
"Professional service delivered by a contentious team of professionals who go above and beyond to ensure the customer is happy. Excellent service from the shopfloor upwards.
One of the best companies I have had the pleasure to do business with."
– Paul Watkins, Production Manager, Fuerst Day Lawson
Request further information about the Posimatic EV2500
Our customers range from start-up enterprises to exclusive, world-famous brands.
We pride ourselves in manufacturing the highest quality products and supporting our customers with outstanding service. And, having built a worldwide client base after more than 45 years in business, we are proud that nearly 70% of our orders today are repeat business with existing customers, who rely on Universal Filling Machine Company to provide them with first class support and help them grow their businesses.
Every single machine or system we sell is 100% tested in our production facility to ensure it meets the customer's requirements and performance targets.