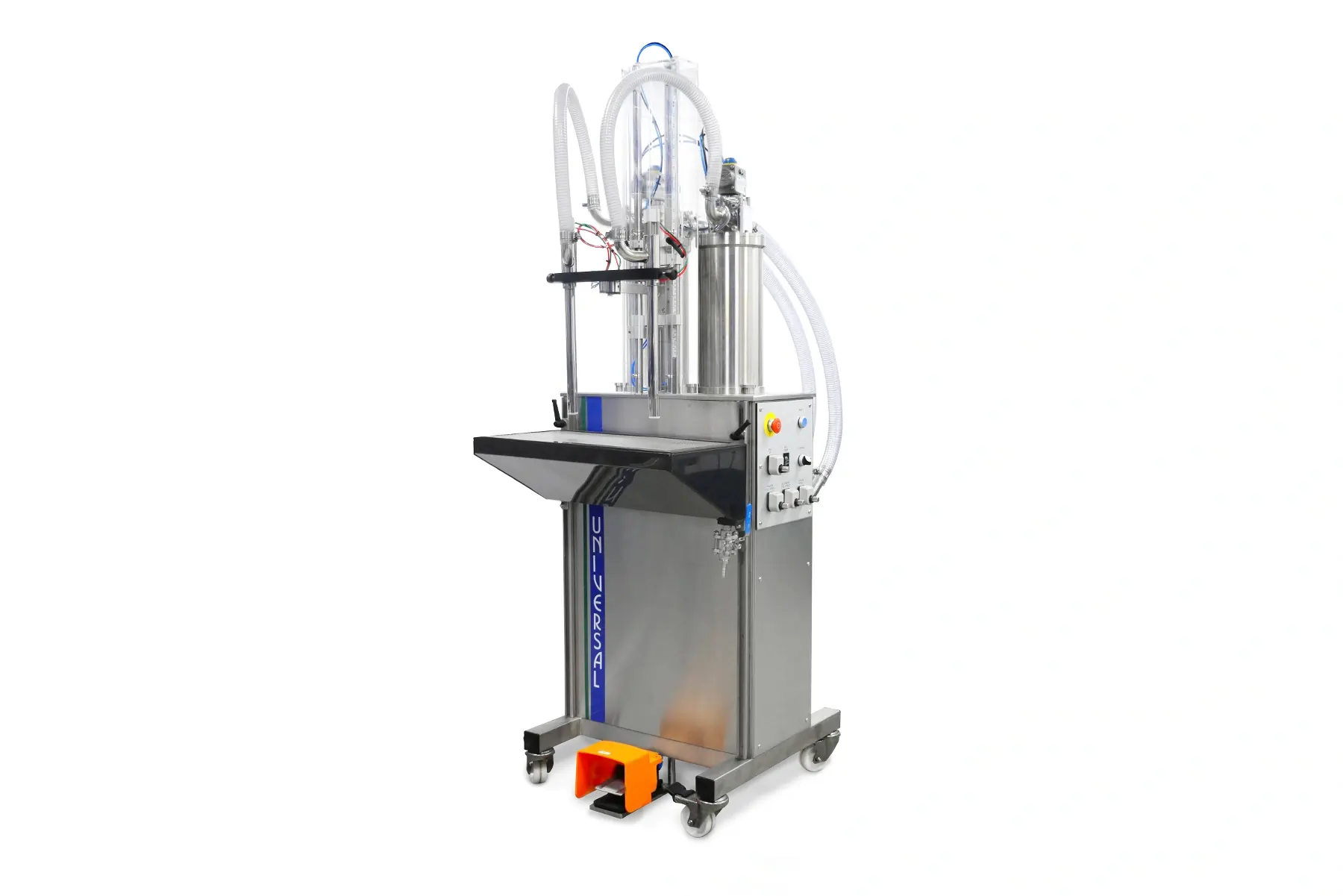 P5000
Semi-Automatic Volumetric Liquid Filling Machine
P5000
Semi-Automatic Volumetric Liquid Filling Machine
Suitable for filling 2.5 litre, 5 litre, 10 litre or larger containers, the P5000 liquid filling machine is specifically designed to minimise the handling of heavy, awkward containers, whilst maximising production outputs on difficult products.
The P5000 is supplied with a pneumatically operated Rotary Valve and Diving Nozzle, enabling it to handle the widest range of liquids, from free flowing chemicals such as screen wash and detergents through to viscous paints and adhesives.
Larger containers can be filled without removing them from the pallet with the addition of a Wander Nozzle and Multi-Dose Counter, removing the manual handling of heavy containers.
500ml – 5 litres per cycle
Up to 15 bottles per minute
Full mobility for easy re-location
Neck entry/Bottom-up filling options
Two speed fill & Auto-flushing/Auto run controls
Pneumatic closing "Non-drip" nozzles as standard
Foot pedal start for hands-free operation
Food and pharmaceutical quality 316 stainless steel metal contact parts
Dispensing volumes: 250ml – 5 litres (+multiples of up to 9,999 cycles)
Filling speeds up to 15 bottles per minute
Choice of 2.5 or 5 litre metering cylinders
Pneumatic shut off nozzle fitted for drip free filling
Height adjustable container support platform with built in spillage tray
Easily accessible side-mounted control panel
Simple hand-wheel volume adjustment and linear scale
Vertically-mounted filling pumps for small footprint
Draws from a floorstanding supply vessel
Quick release air connection to pneumatic filter regulator unit
Single or twin head variants
Short stroke or full diving nozzle for bottom up filling
Multi-dose – counter for filling larger containers up to 999 cycles
Wander nozzle – filling larger containers on pallets or weigh scales
Wide range of hose and seal materials to suit almost any liquid

"Universal are our number one choice when we require a new filling machine …"
– Dale Eames, Production Manager, Vitax Limited
Request further information about the P5000
Our customers range from start-up enterprises to exclusive, world-famous brands.
We pride ourselves in manufacturing the highest quality products and supporting our customers with outstanding service. And, having built a worldwide client base after more than 45 years in business, we are proud that nearly 70% of our orders today are repeat business with existing customers, who rely on Universal Filling Machine Company to provide them with first class support and help them grow their businesses.
Every single machine or system we sell is 100% tested in our production facility to ensure it meets the customer's requirements and performance targets.