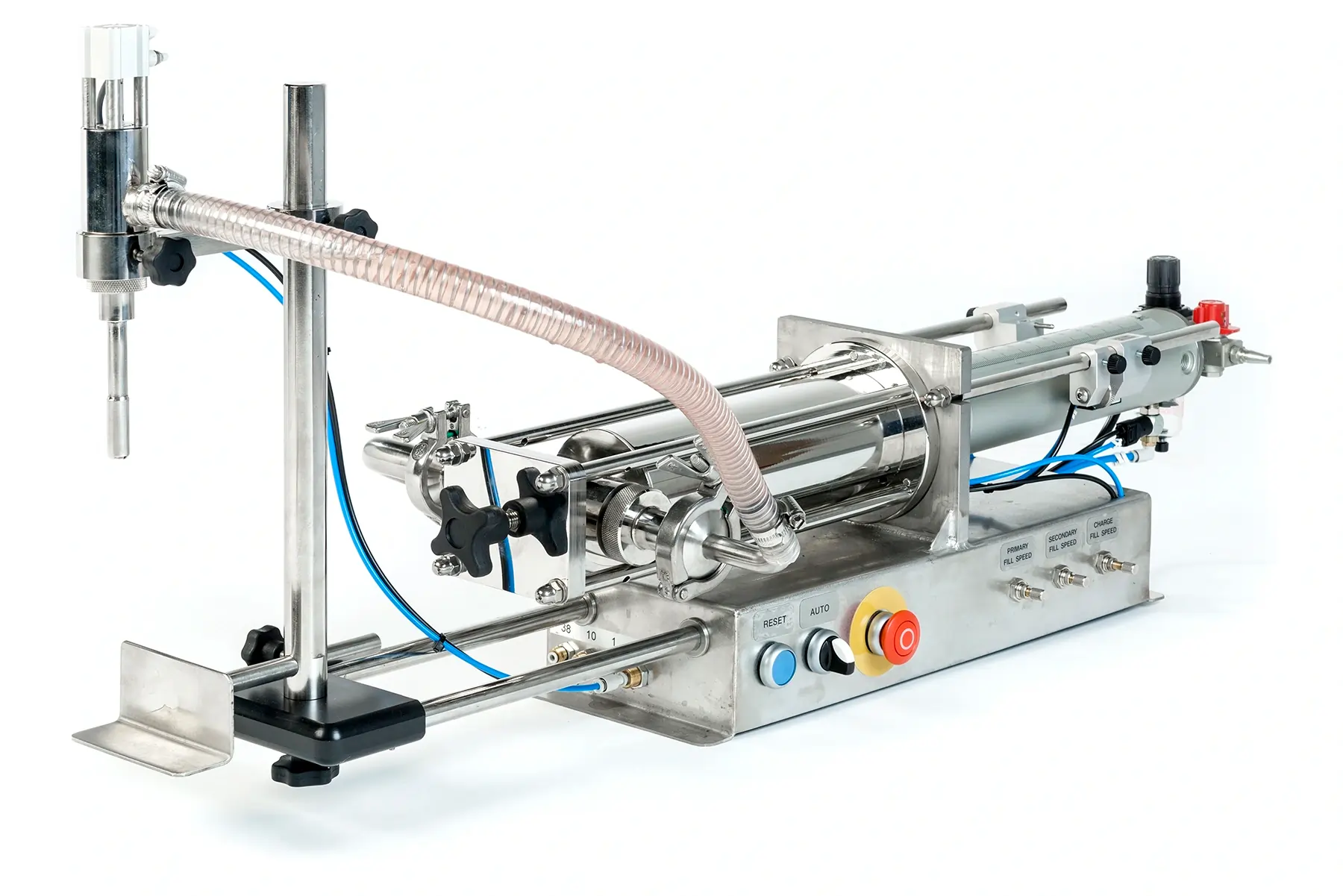 Posifill EF
Semi-Automatic Volumetric Liquid Filling Machine
Posifill EF
Semi-Automatic Volumetric Liquid Filling Machine
The Posifill EF is ideally suited for both the first-time user of semi automatic liquid filling machines and dispensers within a busy production environment which requires flexibility, accuracy and rapid changeovers. Compressed air provides the power supply for filling.
A robustly constructed unit, ideally suited for start-up venture and small-scale or as part of a larger production facility, the Posifill EF offers flexibility, accuracy and rapid changeovers.
Filling speeds of up to 30 containers per minute can be achieved with a wide range of liquids; from solvents to creams and gels, including food and dairy products containing particulates, such as fruit yoghurts, can also be filled by the Posifill EF.
Up to 30 bottles per minute
Fills liquids, creams and gels
Small footprint for simple bench mounting
Quick release nozzle and feed pipe
Pneumatic operation suitable for hazardous areas or wash-down facilities
Future expandability – can be linked together and incorporated into fully automatic machine
Tool free strip-down for easy cleaning
Easily accessible control panel mounted on the side of the machine
Foot pedal start for hands free operation
Pneumatic operation suitable for hazardous areas or wash-down facilities
Feed pipes suitable for drawing from a barrel at floor level
Ball & Spring or Rotary Valve options to suit liquid
Posifill EF Options & Extras
Pneumatically operated nozzles for drip free filling
Short stroke & full diving nozzle for bottom up filling
Spinning table for cream pots
Product hoppers & tanks in various sizes (heated versions also available)
Two speed fill & Auto-flushing/Auto-run controls
Heating elements & controllers for hot filling applications
Wide range of hose & seal materials to suit almost any liquid
"

The Posifill machine we bought worked straight out of the box and the operators were very pleased with its operation."
– Stephen Guest, Technical Manager, Jotun Paints
Our customers range from start-up enterprises to exclusive, world-famous brands.
We pride ourselves in manufacturing the highest quality products and supporting our customers with outstanding service. And, having built a worldwide client base after more than 45 years in business, we are proud that nearly 70% of our orders today are repeat business with existing customers, who rely on Universal Filling Machine Company to provide them with first class support and help them grow their businesses.
Every single machine or system we sell is 100% tested in our production facility to ensure it meets the customer's requirements and performance targets.
Request further information about the Posifill EF