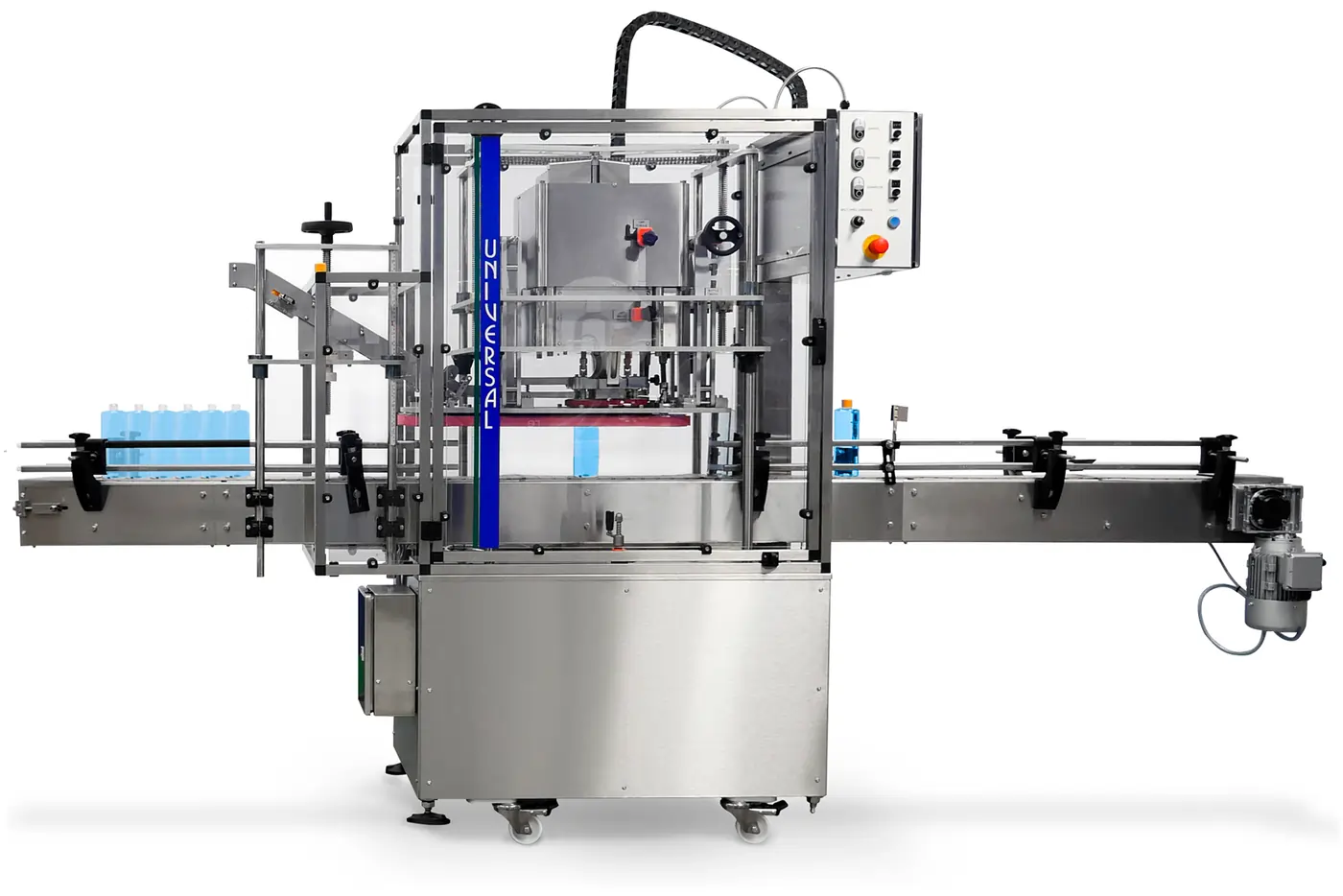 Universal Belt Capper
Automatic Screw Capping Machine
Universal Belt Capper
Automatic Screw Capping Machine
The Universal Belt Capper is probably the most flexible cap tightening machine available and can handle a range of bottle sizes from 10ml up to 5 litre jerry cans without the need for any additional parts.
Tool free change overs are quick and simple and numerical indicators are supplied as standard to assist with fast repeatable machine setting.
Rubber belts are used to hold the bottle/container and stop it twisting, whilst a second set of belts tighten the cap. Once the correct torque has been achieved the cap tightening belts disengage.
Trigger sprays and handpumps can be aligned with the bottle with the use of simple guidance system. Alternatively, and automatic cap feeding and placing systems as well as missing cap and reject systems if required.
The Universal Belt Capper is an ideal addition to an inline filling system and can be used as part of a fully automatic filling and capping line.
Up to 70 bottles per minute
20-120mm Diameter x Up to 50-300mm Height
Universal Belt Capper Features
In line format eliminates need for bottles to stop & start
Suitable for almost any pre-threaded screw cap
Able to handle trigger sprays and hand pump type caps
Capping belts achieve greater torque consistency than similar spindle capping machines
Caps can be hand placed or optional Hopper Elevators and Vibratory Bowl Feeders can be supplied to provide fully automated systems.

"Universal are our number one choice when we require a new filling machine …"
– Dale Eames, Production Manager, Vitax Limited
Our customers range from start-up enterprises to exclusive, world-famous brands.
We pride ourselves in manufacturing the highest quality products and supporting our customers with outstanding service. And, having built a worldwide client base after more than 45 years in business, we are proud that nearly 70% of our orders today are repeat business with existing customers, who rely on Universal Filling Machine Company to provide them with first class support and help them grow their businesses.
Every single machine or system we sell is 100% tested in our production facility to ensure it meets the customer's requirements and performance targets.
Request further information about the Universal Belt Capper