Our range of 5-litre semi-automatic filling machines consists of two distinct models: the P5000 and the PB5000. 
Both machines have a wide fill volume range, offer outstanding levels of productivity, and can be integrated with bottle handling systems to form an automated filling system as your productivity requirements increase.
PB5000
The PB5000 has a filling range of 500ml to 5.2 litres in a single cycle, or up to 25 litres with the addition of the optional multi-dose counter, and is ideal for filling a variety of free-flowing, low viscosity liquids.
The PB5000's cylinder, piston and valve assembly are manufactured from either certified 316 stainless steel, or glass and PVC which is designed to withstand the rigours of corrosive liquids such as bleaches, acids and alkalines while still delivering the same outstanding levels of performance.
A Secondary Fill Speed control is available as an option on the PB5000, allowing the latter stage of each cycle to fill at a reduced speed to prevent liquid from splashing out of the bottle as filling completes.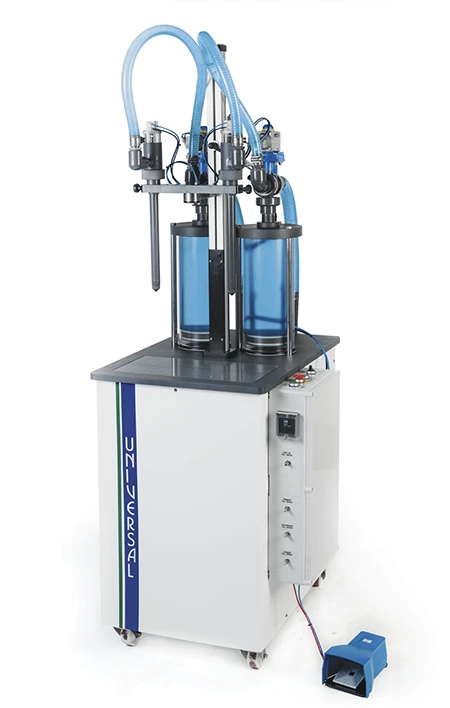 Who uses the PB5000?
The PB5000 is a great choice for filling cleaning products and similar liquids, as identified by one of our customers based in West Yorkshire, UK, who uses their PB5000 to fill a range of natural stone and ceramic floor cleaning and sealing products in to 1 litre, 5 litre and 20 litre containers.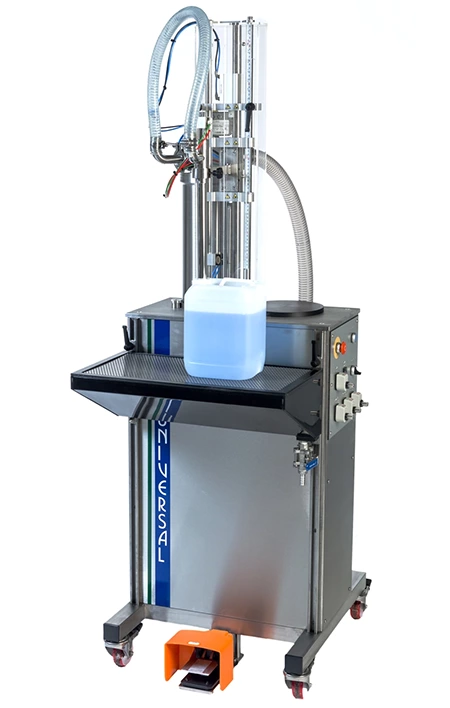 P5000
The PB5000's sibling, the P5000 is built on a stainless-steel chassis as well as having contact parts made entirely from certified 316 stainless steel; making it ideal for filling liquids, such as solvents, into containers from 250ml to 5.5 litres in a single cycle, or up to 25 litres with the addition of our multi-dose counter.
A fully-adjustable Secondary Fill Speed setting comes as standard, allowing the operator to set the latter stage of each fill to a reduced speed to prevent overflowing – particularly useful when filling containers which have tapered necks.
The P5000 can also handle a wider range of liquid viscosities than the PB5000; from free-flowing liquids to creams, gels and liquids which contain particles. A handwheel volume adjuster with numerical counter is fitted as standard, for simpler repeatability and easier setup.
As standard, its full-diving nozzle system and adjustable container platform make the P5000 one of the most versatile filling machines available.
Who uses the P5000?
The P5000 is widely used for filling solvent-based liquids. One customer of ours based in Lancashire, UK, uses the P5000 to fill paint in to a variety of container sizes. They're even using a P5000 to fill white line paint for use on football pitches at the 2022 FIFA World Cup!
Request further information about this machine